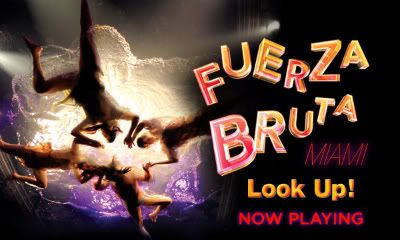 Fuerza Bruta
is a non-stop collision of dynamic music, visceral emotion, and kinetic aerial imagery.
Featuring mind-blowing visual effects that must be seen to be believed—a man running full throttle through a series of moving walls, women frolicking in a watery world suspended just inches above the audience—FUERZA BRUTA is a theatrical experience that floods the senses.
Having already taken South America and Europe by storm and thrilled New York for a year, FUERZA BRUTA is now coming to the Adrienne Arsht Center in Miami. Get ready to immerse yourself in a 360° heart-pounding theatrical experience!
This is where ill be tonight! :) Seems pretty interesting... .