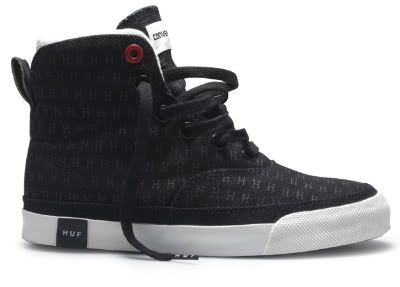 Keith Hufnagel and Hanni El Khatib, worked with Converse designers to create the HUF version of the Converse Skidgrip, a shoe from the Converse archives that originally debuted in the 1980s. Keeping the styling clean and simple Huf gave it monochromatic black canvas uppers with a repeat "H" pattern on outer and lining that subtly references vintage skate graphics and type.
"We wanted to reference the skate and surf vibe of the 1980s and the Skidgrip was a great, authentic foundation."
As a contributor to 1HUND(RED), a percentage of the net wholesale price of the shoe will go to help fight AIDS in Africa, giving consumers an opportunity to become agents of change and offering a way to turn design into power.
The HUF for Converse 1HUND(RED) Artists Skidgrip hi shoe is available in a high-top, black canvas version. The shoe launches globally on October 3rd 2009 and will be available at HUF SF and HUF LA locations, retailed for $75 USD. A great size run will also be available–sizes 3.5 – 13.
via: thisislavie