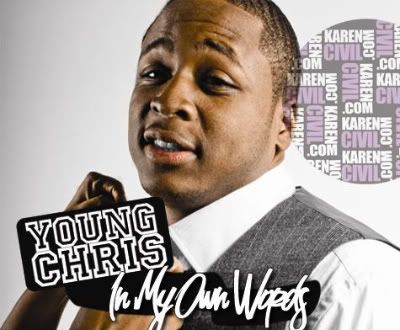 Blogger Karen Civil has Young Chris guestblog on her series "In My Own Words". Being that Young Chris is one of my fav, I decided to post & show support :)
"My career is something special. I've seen the worst and been exposed to the best. The good thing is I think I have learned a lot. Life is about taking things you learn and becoming better. I continue to try to do that to this day.
It started with the Roc. I was a big part of hip hop history. I realize it more and more everyday. I love them dudes. I really wish we could still be doing it, but there is so many things that would have to go right in order for that to happen. So where does that leave me? Honestly, I felt lost at first. But as I studied the game I realized that the more I don't have the more creative I can be with my career. I have a solid team around me that continues to teach me the value of my leverage as an artist. Artist usually think, I don't have a deal, distribution, pub deal or whatever is a bad thing. Well that depends. For somebody like myself it's an opportunity because I have a strong customer base so it gives me a real chance to cut out the middle man. So that's what I'm doing now. Putting together my solo deal myself."
read more here